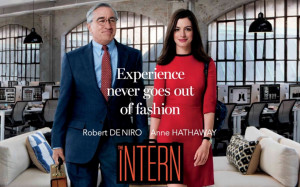 You don't have to be in a position of authority to show leadership. And one movie that makes this point better than most is The Intern. 
After a successful career, 70-year-old widower Ben Richards (Robert De Niro) comes out of retirement to become a senior intern at an internet fashion site run by entrepreneur Jules Ostin (Anne Hathaway).
When Ben is assigned to assist a reluctant Jules, he initially struggles to make an impact. But with persistence, he soon finds ways to use his personal strengths to become an essential member of the team.
It's a great lesson for anyone in how to be indispensable at work. Let's look at the qualities he brings.
Authenticity
Ben's required to film a video job application for his internship, and it's his authenticity that shines through. He's brutally honest about his strengths, his weaknesses, his values. He also lets his passion and desire for the role shine through: "I once read that musicians don't retire, they stop when there's no more music in them. Well, I still have music in me."
This authenticity shows through in everything he does at work. He isn't afraid to be himself in this modern workplace of internet commerce – sporting a classic briefcase and being the only one to wear a suit and tie. He's comfortable and confident being who he is. There's no mask, just openness and honesty.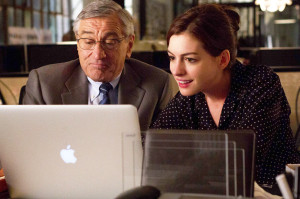 Humility
Despite working as a vice president in his previous company, Ben rarely hustles for more responsibility, and doesn't mention his background or skills unless asked. Instead he lets his performance do the talking for him.
He knows he has new skills to learn and isn't afraid to go back to the beginning and learn afresh. But he values his personal skills and qualities too, and looks for any opportunity to use them to make a positive impact for his new employer.
Initiative
When Jules fails to give him any work, he makes himself useful. He learns new skills from his colleagues, finds out what they do, and looks for opportunities to help them.
He also notices what needs doing, and gets it done, without fuss. For example, Jules is constantly frustrated by an overloaded desk that has become a dumping ground for colleagues around the office. Ben simply comes in early one day to clear it.
Mentoring
With an office full of young people, Ben becomes an informal 'mentor' to many of his new colleagues. He supports Becky, Jules's PA – listening to her frustrations, helping her manage her workload and ensuring she gets more recognition. He allows Davis, his fellow intern, to move in with him when he finds himself homeless. He dispenses dating and fashion advice to colleagues Jason and Lewis.
Most of all he becomes a subtle mentor to Jules herself, encouraging her to resist her Board's efforts to have her recruit a CEO, and helping to build her confidence when needed.
Taking responsibility
When Ben catches Jules's driver sneakily taking a drink from a hip flask, he insists that he goes home immediately rather than carrying on driving.
He handles this potentially difficult situation firmly but calmly, without unnecessary drama.
As Ben later quotes Mark Twain to Jules: "You're never wrong to do the right thing."
Creating a great place to work
Ben is one of those invaluable employees who, through hundreds of small daily actions, helps create a great place to work. He's the eyes and the ears of the office. He supports his colleagues wherever he can and takes time to find out what makes them tick.
He helps them get recognised for their contributions, and brings a sense of calm and experience to a frenetic office environment – making the workplace better for everyone.
With society getting older, and many people working longer, The Intern makes a positive statement on the role of older people at work, and the value and experience they can bring.
Ultimately it's a film that celebrates the positive potential of work, at any age, to play a major role in a happy, fulfilling life – and how your attitude to work plays a major role in fulfilling that potential.