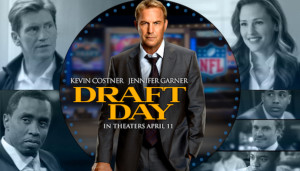 Recruiting an outstanding team is a challenge for any leader. So imagine that challenge comes with intense time pressure, national media coverage and expectant fans and owners into the bargain.
That's the challenge facing Cleveland Browns general manager Sonny Weaver (Kevin Costner) in Draft Day. Even if you're not an American football fan, it's an intriguing look at team dynamics, negotiation skills and leading under pressure.
The Draft is an annual event where US National Football League (NFL) teams select eligible college football players. To make the league as competitive as possible, the worst performing teams get to choose first from the best college players in the country.
With salary caps, injuries and potential trades with other teams to be considered while the clock counts down, the pressure on NFL bosses to make wise choices is intense. In Draft Day, Sonny's challenge is to use the Draft to rebuild his struggling team with some prudent deals.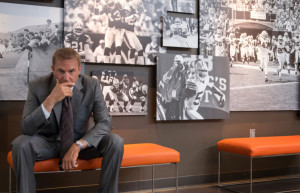 But it's far from easy. Sonny has a wealth of issues to weigh up. An overbearing owner who wants to 'make a splash' with a big signing. A coach who disagrees with his choices. Concerns over the temperament of his potential first choice. A quarterback whose fitness is uncertain. Protests from fans. Local media who want him fired. The pressure to emulate his successful father, who passed away just a week before.
Draft Day shows how Sonny deals with these conflicting pressures as the clock ticks down. Let's look at some of the key principles that inform his leadership.
Value character over talent
While Sonny's boss is keen to sign the number one college star, Bo Callahan (Josh Pence), Sonny is unconvinced. He believes in Callahan's talent, but has a nagging doubt about his character and temperament.
Sonny knows that whilst talent is alluring, a suspect character in any team environment can quickly prove corrosive. He goes to great lengths to uncover solid evidence to back up his hunch on Callahan's character – but without success.
Sonny's preferred choice is Vontae Mack (Chadwick Boseman), an outspoken linebacker who's already proved his maturity by taking on guardianship of his two young nephews following his sister's death.
Go with your gut
In the end, Sonny goes with his gut instinct by selecting Mack as his first pick, despite the incredulity of his boss, his colleagues and the media.
Whilst Sonny fails to uncover solid evidence that shows Callahan's temperament is suspect, that nagging doubt deep in his subconscious refuses to give way. And he has no such doubts about Mack.
Take personal responsibility
Sonny is assailed with advice from all quarters – the team's owner, his coaching team, the media. But ultimately he knows that responsibility for his team's success stops with him.
Sometimes that knowledge drives unhelpful behaviour. For example, he alienates many of his coaching team, at least initially, by not involving them fully in his plans or thought process.
He disregards everyone else's preference by choosing Mack, but he knows it's not their jobs on the line – it's his. And in the event, his audacious choice works out better than anyone imagined, as more of his favoured players become available as other owners change their picks as a result.
Be flexible
Whilst Sonny has a plan for how he'll approach the day, he's quick to react and take advantage of changing circumstances.
As the minutes tick by he rapidly changes strategy as circumstances change and new information comes to light – such as an injury update on one of his current players and the unexpected availability of some of his other choices.
Negotiate hard
Sonny has to fight hard to negotiate the deals he wants. At the start, he finds himself in a poor negotiating position, hamstrung by the injury to his star quarterback and the demands of his overbearing boss.
But as circumstances change, Sonny turns the tables. He manoeuvres himself into a far better negotiating position and takes full advantage, so that his team end the day with not just one new star player, but three.
By staying flexible, mentally strong and true to his beliefs and gut instinct, Sonny's able to take full advantage of the draft system to help rebuild his team.