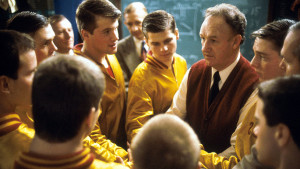 Hoosiers (also known in the UK as Best Shot) was an unexpected box office hit in 1985, telling the unlikely story of a tiny high school basketball team who win the State Championship in hoop-mad Indiana in the early 1950s. 
Disgraced former coach Norman Dale is given a final chance to coach basketball at Hickory High School, a school so small it can barely scratch a team together, and whose troubled star player refuses to play. It's a story of redemption, and how uncompromising leadership can inspire even the smallest teams to great achievements.
So how does Norm approach his role, and take his team from also-rans to state champs?
1. Take responsibility
In an early scene, the townspeople get together to grill Norm on his credentials and tell him how to run the team. "This town doesn't like change much, so we thought we'd get together and let you know how things are done around here," the local sheriff tells him.
Norm listens, but doesn't engage with them at all. Instead, he just thanks them and leaves. The inference is clear: he's going to do things his way.
This continues at the first training session, where the interim coach has arrogantly assumed control of the session. Norm quickly sets him straight. "Let's be clear," he tells him. "Your coaching days are over." It's brutal, but it leaves everyone in no doubt who's in charge.
2. Set standards…
Like Coach Carter, Norm wastes no time in setting strict behavioural standards at the first session. When a player talks over him and asks impertinent questions, he dismisses him from the session immediately, even though it means taking their numbers down to a threadbare five.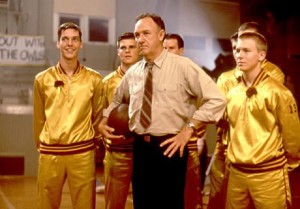 3. …and follow through on them
In the first game, one of the players, Ray, ignores the coach's explicit instructions to pass four times before shooting. Even though his accurate shooting hauls the team back into the game, Norm substitutes him – leaving the team one player short. The message is clear: follow the game plan.
4. Focus on skills
Norm's approach to training focuses not on game practice, but on skill development. He deconstructs every basketball skill and has them practise it over and over again, honing each tiny part of their game.
5. Understand personal motivators
Everyone tells Norm his team have no hope unless he can convince the school's most gifted, but troubled player, Jimmy, to play. But Norm refuses to put pressure on Jimmy. "You have a special talent, a gift, to do with what you want," Norm tells him. "Because that's what I believe, I can tell you this. I don't care whether you play on the team or not." Then he leaves Jimmy alone completely.
He puts the decision entirely on Jimmy's shoulders, inviting him to search his feelings for what he wants to do, regardless of what anyone else says.
It's a strategy that pays dividends when Norm's confrontational style and lack of political skills nearly result in his sacking. Only Jimmy standing up to support him keeps Norm his job.
6. Develop others
Norm knows that everyone makes mistakes, and deserves another chance. He sees the latent talent of one of the boys' fathers, Shooter, who has an encyclopedic knowledge of local teams but is battling alcoholism. Norm offers him a way back as assistant coach, providing he smartens up and sobers up.
Norm also ensures Shooter takes on responsibility, asking the referee to send him to the stands in one game so that Shooter has to take control of the team.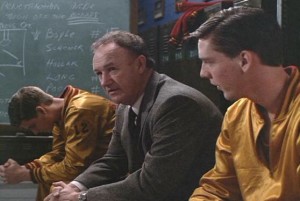 7. Focus on effort, not outcome
Norm's coaching approach focuses on effort, which is within the boys' control, rather than outcome, which is not. This encourages a growth mindset where they can continually focus on improvement and development, rather than being paralysed by the results of their games.
"Don't get caught up in thinking about winning and losing," he tells them before a big game. "If you put your effort into playing to your potential, to being the best that you can be, I don't care what the scoreboard says at the end of the game, in my book we're going to be winners."
8. Show confidence in your team
Norm shows confidence in his players, even when they're having a bad game. In the crucial match  before the state championship, the team's smallest player, Ollie, comes on and makes two terrible errors, allowing the opposition to go ahead with only seconds remaining. He's then fouled and has two free throws to win the match.
At the resultant time out, Norm doesn't take him aside or berate him. He just makes it clear he's got absolute confidence in him to nail the shots. And when Ollie does just that, it's a great reward for the little guy whose teammates affectionately tease him as being only 'half a player'.
9. Make change tangible
When the team arrives at the huge Minneapolis arena for the state championship match, Norm gets his awestruck players to measure the distance to the free throw line, and the height of the basket. "I think you'll find it's the same as our gym back home," he tells them. It's an effective way to demystify the aura of the venue and help them to relax.
Of course, he could just tell them that the distances are the same. But getting them to measure it for themselves makes it more tangible.
10. Adapt as your team grows
When he first becomes coach, Norm is rigid in imposing discipline and ensuring his players listen to him. But as trust grows, he adapts his approach.
In the final minute of the state championship, Norm calls the play but his players disagree with him. Norm accepts their judgement and allows them to call the final play – a decision that wins them the state championship.
*  *  *