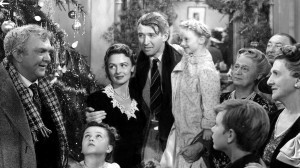 At the start of It's a Wonderful Life, the angels observe George Bailey as he considers jumping off the Bedford Falls bridge. 'Is he sick?' asks Clarence, his trainee guardian angel. 'Worse,' replies Joseph, his boss. 'He's discouraged.'
We all need to feel appreciated, whether at home or at work. Yet research suggests that many of us feel unappreciated at work. We do get discouraged, and our motivation suffers as a result.
Kouzes and Posner, authors of The Leadership Challenge, understood the huge impact of recognition and built it into their five leadership practices as 'Encourage the Heart'. For leaders, it's a key, yet often absent, behaviour.
Many equate recognition with simply saying 'thank you'. But great recognition comes from the heart, and packs a strong emotional punch. It makes the recipient really feel good, giving them a lift when they need it. And in movies, we have lots of examples to inspire us. Here are seven of my personal favourites. 
1. Dave – 'I would have taken a bullet for you'
Earlier in the movie, Presidential stand-in Dave Kovac asks his burly bodyguard Duane whether he'd 'take a bullet for him' as he would for any 'real' President. Duane's ominous silence gives Dave his answer. But here, at the end of the movie, Duane reveals to Dave the impact he has had in one short, moving line.
2. Babe – 'That'll do pig'
Once again, brevity reigns in Farmer Hoggatt's few short words of recognition at the end of Babe. But those five words could not be more heartfelt, or powerful.
3. Million Dollar Baby – 'You did that'
Distraught at the tragic boxing accident that's befallen his prodigy, Maggie, trainer Frankie Dunn blames himself. His best friend Eddie helps Frankie to see the overwhelmingly positive impact he's had on her life.
Because of you, Maggie got her shot. If she dies today, you know what her last thought will be? 'I think I did alright'.
4. Schindler's List – 'Whoever saves one life, saves the world entire'
As Oscar Schindler prepares to leave his assembled workers at the end of the war, they present him with a letter signed by every worker, and a ring with the inscription: 'whoever saves one life, saves the world entire'. It's a movingly eloquent tribute to the life-saving impact he has had.
5. Lord of the Rings: Return of the King – 'My friends – you bow to no one'
As Gondor acknowledges Aragorn, their new King, he stops his assembled hobbit friends from bowing to him. Instead, he bows to them –  along with the entire gathering. It's a humble acknowledgement from the King on the central role they have played in victory.
6. It's a Wonderful Life – 'the richest man in town'
As friends gather from all over town to help George Bailey pay off his bank debt, even the bank examiners chip in with their contributions. But it's the arrival of brother Harry that delivers the biggest recognition, as he describes his brother, who's always put others before himself at the cost of any personal gain, as 'the richest man in town'.
7. Made in Dagenham – 'Don't give up'
As Rita begins to falter in her quest for equal pay at Dagenham, a heartfelt visit from Lisa Hopkins, the wife of her main adversary at work,  helps her to realise how's she's inspiring others – and gives her the strength to continue.
When I was studying for my degree, I remember reading about all these extraordinary people making history, and I wondered what it felt like. So, let me know will you? Don't give up!