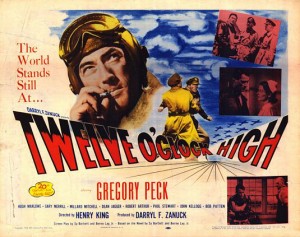 Despite being over 60 years old, Twelve O'Clock High is apparently still required viewing at U.S. service academies and training schools.

While many movies have valuable leadership lessons, few are about the very nature of leadership itself. Twelve O'Clock High is different. It's a movie that reveals both the power and challenge of leadership.
Set on a US Air Force base in England during World War Two, a squadron of pilots are attempting to prove the efficacy of highly risky daylight bombing raids deep into the heart of Nazi-occupied Europe. With success and morale low, General Frank Savage (played by Gregory Peck) is sent in to replace the popular Colonel Davenport, a man seen to have become too close to his men.
There are contemporary lessons here for any leader, whether they face a 'turnaround' situation like this one or not. So what can we learn about the General's approach?
1. Restore accountability and standards
Savage wastes no time making clear what is acceptable, and what isn't. Before he's even on site, Savage berates the guards for not checking his identification (as outlined in the movie clip below). He demotes a sergeant to private for not wearing his uniform, and closes the bar till further notice.
2. Set clear expectations
At an early 'town hall'-style briefing, he sets out his perception of the unit and makes it clear that 'bad luck' is no excuse for underperformance. 'You're sorry for yourselves', he announces. 'Fear is normal. Stop worrying about it. Stop making plans. Consider yourselves dead'.
It doesn't win him any popularity contests, and all his pilots immediately put in for a transfer. Has he taken his hard-nosed stance too far?
3. Gather support
Without the support of Major Stovall, his approach may well have backfired. But Stovall agrees to stall the pilots' transfer requests to give the general's approach time to take effect.
4. Develop the leaders
Savage is there to turn around the unit, but not to stick around indefinitely. His aim is to develop the leaders who will take the squadron forward – whether that's existing leaders or those with potential.
He demotes and humiliates the underperforming second-in-command Lt Colonel Ben Gately, placing him in the charge of a plane called The Leper Colony, manned by the worst-performing crew on the base. But in doing so, he also gives him a way to prove himself. And prove himself Gately does, flying three missions with a fractured spine before landing a lengthy stay in hospital.
Savage also promotes those who have shown resilience or bravery on their missions, or who he feels have the potential for leadership.
5. Develop a sense of pride
To turn around morale, Savage focuses on developing pride within the group: pride in their performance, pride in the role they play, and pride in what they achieve as a group. He wants his team to be fighting to get on the plane for every mission and every exercise.
But how best to develop pride?
6. Promote excellence
Savage's focus on excellence involves detailed debriefs with his team, examining every aspect of each mission. He demotes aircrew who make mistakes to The Leper Colony; those who prove themselves get promoted out of it.
He introduces training flights on every day where there's no mission. The message is simple: high performance makes the whole outfit safer and more efficient. The approach begins to pay off, and a dangerous mission with no losses results in a commendation for the whole squadron.
7. Communicate the 'why'
Despite the general's success in turning round performance, he fails to win the hearts of his squadron. With his pilots on the verge of transferring, he calls a trusted young officer, Jesse Bishop, into his office to listen to his concerns. Only when he hears Bishop explain that he can't see the point of their attacks does Savage explain why their missions are so important.
By listening to Bishop's honest views, explaining the 'why' and allowing him to make his own decision on his future, Savage convinces Bishop to stay. And in turn, Bishop convinces the other pilots to stay as well.
8. Keep your distance
Keeping an appropriate distance from your team is a challenge experienced by every leader. Savage is determined not to become emotionally involved with the plight of his squadron. But ultimately, he doesn't succeed in this. Though he's successful in developing the leaders to take the squadron forward, he finds it difficult to back away.
The pressure takes its toll, and he has an emotional breakdown as a result.
Fortunately, few of us will ever be in the position of sending men to their deaths, but the responsibility of leadership can still be stressful. Taking a break and occasionally relinquishing responsibility to others can be as integral to effective leadership as anything else.
In this scene, General Savage wastes no time in restoring discipline and standards to his new command