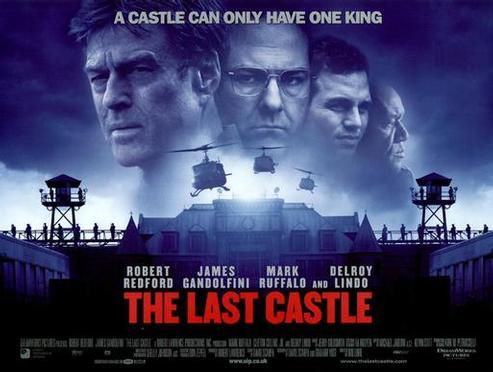 A key aspect of leadership is to give purpose and direction.
But it can also be about providing hope: hope that circumstances will improve, that this time things will actually get better and people will start to feel valued and fulfilled once again. It's a message explored in the 1991 film The Last Castle, starring Robert Redford.
Redford plays the distinguished General Irwin, a decorated American war hero whose final combat decision has catastrophic consequences which see him impounded in a military prison. While initially content to serve out his time peacefully, Irwin takes action when he discovers the brutal regime of the prison warden, Colonel Winter, played by James Gandolfini.
Irwin's status initially carries little weight with the prison's inmates – disgraced soldiers who initially run bets on how long it will be before he commits suicide. But Irwin gradually gives them back a sense of personal dignity and purpose. It's an approach in stark contrast to the man in official command. Winter sees his inmates only as 'animals' to punish and keep under strict control. Irwin sees them as soldiers who have made mistakes – but who can become soldiers and regain their self-esteem once again.
Gradually, Irwin's influence grows and the inmates come to regard him as their natural leader. So what are his secrets?
Irwin helps his fellow inmates reframe their situation, to change their perception of their circumstances. He encourages them to think of the prison not as their jailor, but as their castle – and something to be proud of.
While Winter has the men pointlessly moving rocks around the yard, Irwin encourages them to see the exercise as adding to their castle's fortifications.
Robert Redford as General Irwin

He recognises the latent talent of those around him. There's the shy and downtrodden Aguilar, whose masonry skills help build the castle wall. The sergeant major's skills are put to use in rounding up and addressing the men. Then there's Yates, the duplicitous hustler who cares about nothing but himself, but whose father was imprisoned with Irwin in Vietnam. Irwin brings Yates into his confidence because he recognises the good soldier within him, and has faith in his ability to change his ways.
When Winter's brutality leads to another courtyard execution, Irwin realises that for the men to win back their self-respect then the major obstacle – Colonel Winter – must be removed from command. He proposes a clear and simple goal: taking over the prison with the sole aim of removing Winter from power.
There are many valid lessons here for leaders. The importance of keeping open-minded about the people you lead, no matter what they may have done in the past. The benefit of searching hard for people's individual talents, however unlikely they may first appear. And that even in the most difficult circumstances, it's possible to inspire a clear direction which gives people and sense of purpose and fulfilment.