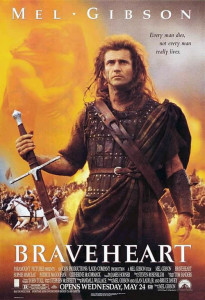 Many organisations have a vision and values, but only in the best does that vision truly galvanise its people and result in better performance. Why? Because often that vision either isn't compelling enough, or leaders fail to act consistently with the goal they have set out. 
In Mel Gibson's stirring though historically dubious Braveheart, William Wallace rallies his countrymen around the simple vision of freedom from English tyranny. It's a compelling and exciting goal, but it is his total commitment and unwavering belief in its attainability which brings people flocking to his cause.
Before the Battle of Stirling, it's Wallace's raw passion, belief and determination that brings his countrymen flooding back to the battlefield to take their part in a momentous victory. Contrast his confidence with that of the nobles Lochlan and Mornay, who moments earlier discuss the fact that their army have 'no chance' as their nervous men look on.
Wallace's total commitment to his vision means he's uninterested in any form of compromise which doesn't directly support his aim. While the nobles prefer to negotiate with the English and jostle for political influence, Wallace always acts in a way that stays true to his beliefs. He also knows the basis of his own support: "men don't follow titles," he tells Robert the Bruce, "they follow courage."
The magnetism of Wallace's leadership also comes in part from his initial reluctance to get involved in the Scottish struggles. Unlike the nobles, he chooses to lead because he is motivated by his cause, rather than personal wealth or position.
In fact, Wallace is a good example of servant leadership, which he articulates clearly when outlining the differences between himself and the nobles. "You think the people of this country exist to provide you with position," he tells them. "I think your position exists to provide those people with freedom."
Of course, you could argue that Wallace's inability to enlist the nobles' full support in backing his rebellion ultimately leads to his failure.
However, it's that refusal to compromise his own principles with the self-interest of the nobles that makes him such a powerful, inspirational figure. And his eventual recognition that the nobles are essential to achieving his goals leads him to a risky – and ultimately fatal – meeting with them in Edinburgh.
He may not be there to continue the fight, but Wallace's unwavering commitment to his vision leads others to continue it for him: most notably Robert the Bruce, who changes his own outlook to lead the Scots to victory, and freedom, several years later at Bannockburn.