Once you're convinced of the power of movies to inspire leaders, there are other issues to consider, including:
How will I get it to work?
What are the copyright considerations?
But fear not: help is at hand.
Getting movie clips to work smoothly in your presentation
There are several ways to include movie clips into your presentations or training events. The best for you will depend on the equipment and support you have available. Here are some of the options.
1. Using pre-cut video clips
The smoothest way to include specific movie scenes into a presentation is to 'rip' the DVD to create a digital copy, then cut movie clips to the exact length you want. Some companies will have communications or IT staff with the editing software to do this quickly and easily. Audio visual companies can also usually do this for minimal cost.
The movie clips can then easily be embedded to run from Powerpoint or Keynote.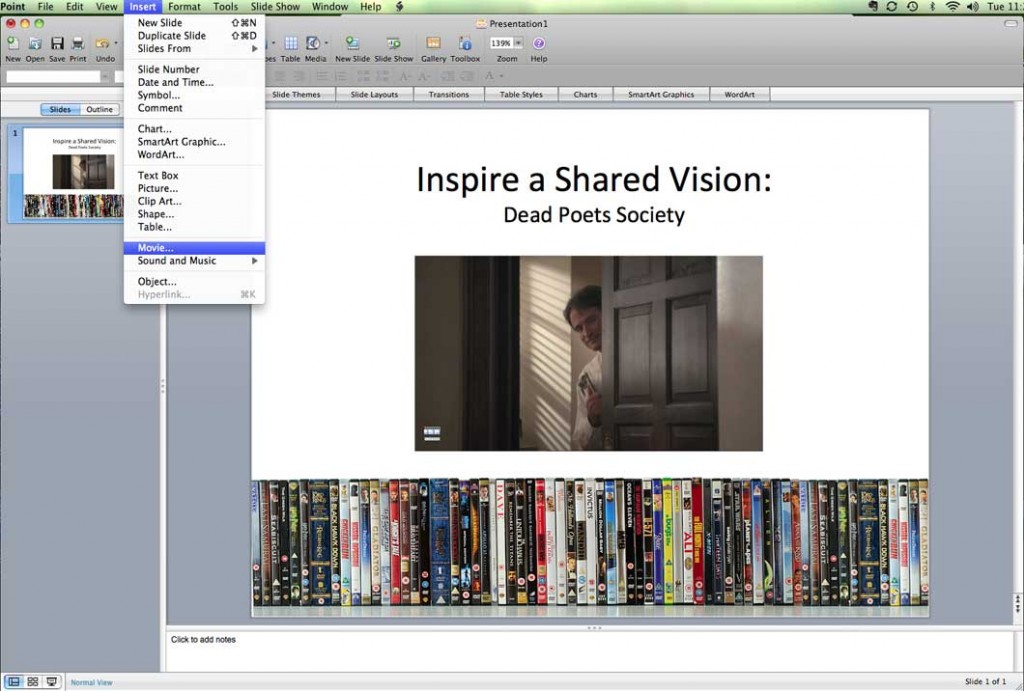 Be aware that the legalities on DVD 'ripping' differ from country to country. You can read more in this Wikipedia entry.
However, you don't need editing software, or know how to use it. Here are some alternatives which can work just as well.
2. Using iTunes
If you're using multiple clips from different movies as part of a presentation, a simple option is to download the movies from iTunes and then play them as needed.
After you download your movies, use the scrubber bar (see below) to find the start point for your clip. You can then leave iTunes, or find another movie, and iTunes will remember the point you left it the next time you access that movie.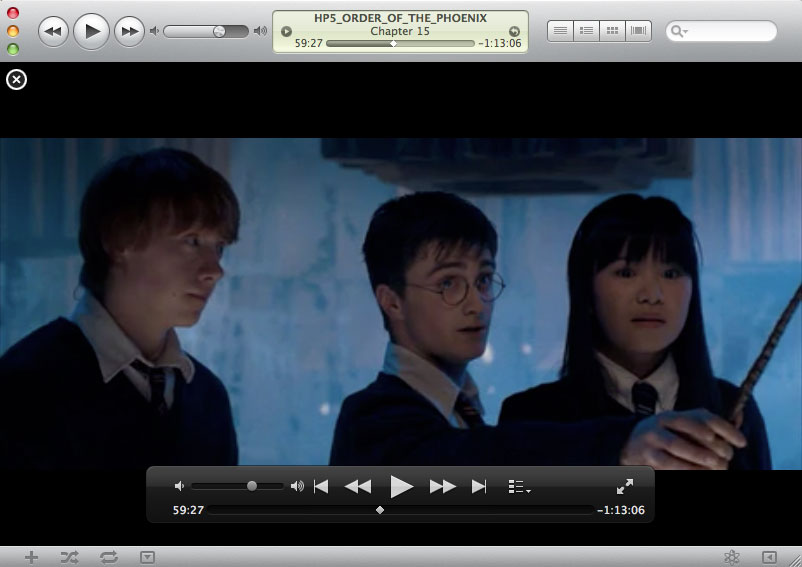 Let's say you want to use clips from four different movies as part of your class. Just go to each movie in advance and find the start of each clip you want. Then leave the movie at that point.
You can then quickly find each clip by selecting the 'Play Recent' command. This is accessible via the Controls menu (see below), or by right clicking on a PC (control clicking on a Mac) on the iTunes icon.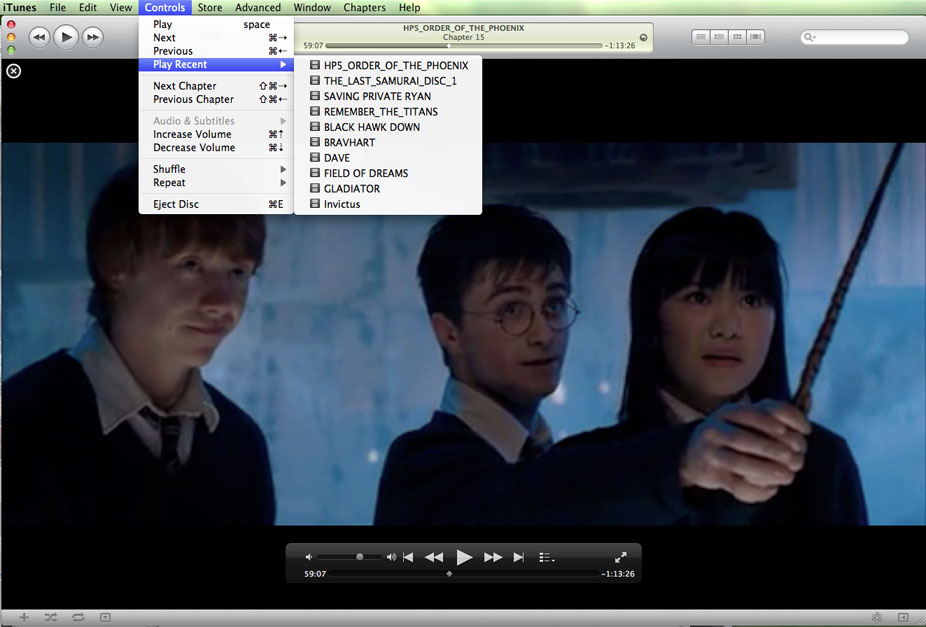 It's easiest to have only your presentation and iTunes open on your desktop, then you can quickly switch between them by pressing alt-tab on a PC (cmd-tab on a Mac).
You may need to connect your laptop to an appropriate sound system so your audience can hear the dialogue.
While using iTunes works well, there are two potential issues:
Some organisations will not allow their employees to use iTunes.
While iTunes has an extensive collection of great leadership movies, it's not completely comprehensive. For example, one of my top five leadership movies, Thirteen Days, is not available on iTunes.
A solution to the second issue is to 'rip' the DVD to your computer using open source software like Handbrake, which is free, simple to use and does a great job (but please note the legal considerations mentioned before). Once you've ripped the movie, you can then just drag and drop the movie into your iTunes library.
3. Using a DVD
An alternative which works well for showing single clips is to play the DVD itself, either in your computer's optical drive or with a separate TV and DVD player.
On a computer, you can simply find the start of the scene on the DVD and then leave it, ready to switch to it from your presentation.
However, this approach works less well for multiple clips unless you have an audio visual team to support you by lining up different clips as you go along. If you're on your own, it's time consuming and cumbersome to change DVDs and line up new movie clips while your audience is watching.
Licensing restrictions 
You should also be aware that public performance of movies is usually subject to licensing restrictions.
However, according to the Motion Picture Licensing Corporation, over 450,000 organisations worldwide have umbrella licences in place which cover the legal showing of movie clips in their establishment. Please check what arrangements are in place where you wish to show movie clips, or what licensing arrangements you need to allow you to do so legally.
An educational licensing exemption states that films may be shown without a licence at non-profit academic institutions for the purposes of instruction only.  
You can find full details of licences and restrictions at:
The Motion Picture Licensing Corporation – http://www.themplc.co.uk
The Motion Picture Association of America – http://www.mpaa.org