The eBook that helps you find the right scenes to transform your leadership training and presentations – quickly and easily!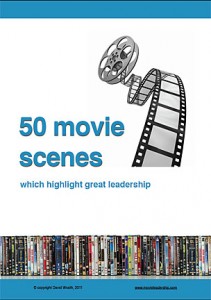 If only everyone was enthused by leadership development. Sadly, this isn't the case. But inject something different and you may find even the most cynical leader getting involved. Use the power of movies!
Movies are great for role modelling leadership behaviour, for generating discussion and creating interest. It's easy to find suggestions for movies that model leadership – ask your friends or search the web and you'll find lots of suggestions.
But it's often impractical to use full-length movies in a learning context. Short, self-contained scenes which role model leadership behaviour are far more practical.
You could spend many hours watching movies to try to find relevant scenes. But wouldn't it be easier if that work had been done for you?
50 movie scenes which highlight great leadership is a 48-page eBook describing 50 scenes which model great leadership behaviour, from over 20 well-known movies.
To make it easier to find relevant scenes to meet your needs, the book's chapters reflect Kouzes and Posner's five leadership practices described in The Leadership Challenge: Challenge the Process, Inspire a Shared Vision, Enable Others to Act, Model the Way and Encourage the Heart.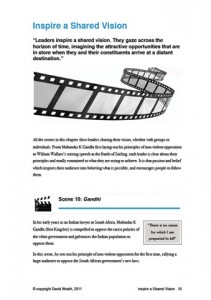 Each scene has been specially selected to work as a self-contained clip to promote discussion around a specific leadership behaviour. Its description includes:
a short synopsis of the movie and what happens in the scene
notes on why it successfully models the behaviour described
scene length and exact timing of where it appears in the film
DVD/iTunes availability and a link to the Internet Movie Database where you can find further information about each movie including trailers and clips.
A small investment in 50 movie scenes which highlight great leadership will allow you to:
quickly find specific scenes to meet your needs
invest only in the movies you need
add a more engaging dimension to leadership training, presentations or events
You can get more information on how to include movie scenes in your learning events in the How to guide.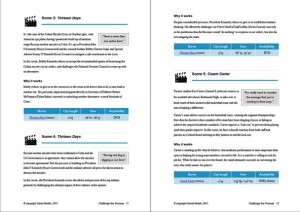 Can I try before I buy?
Absolutely. You can download a free sample version now, containing the introduction and descriptions of the first 10 scenes. Click here for your free sample.
Is it secure?
movieleadership.com uses Paypal to process payments securely. You can pay either with a credit card or with your Paypal account.
How to buy
50 movie scenes which highlight great leadership usually costs £29.99 but is available now for the introductory price of just £24. For this small investment you'll be able to inject life into your leadership training and events, and truly inspire your leaders to greater heights.
To buy, simply click the 'buy now' button below. You'll be taken directly to the Paypal site to enter your payment details. Once you've completed your payment, you will receive an email immediately with a link to download the full eBook.
To buy 50 movie scenes which highlight great leadership click the 'buy now' button below.
Thanks for your custom – it's much appreciated. If you are unhappy with your purchase in any way please email me at dave@movieleadership.com
Return to the movieleadership.com home page