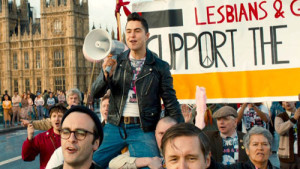 It's hard to imagine two groups less likely to unite in the UK in the mid-1980s. On one hand the miners of South Wales, locked in a bitter, violent, year-long strike against pit closures. On the other: London's lesbian and gay community, engaged in its own battle against discrimination. 
Yet this unlikely union is what makes Pride such a remarkable and inspiring story.
The catalyst was a gay rights activist called Mark Ashton (played by Ben Schnetzer). In real life, Mark died of HIV/AIDS not long after the events of this film, tragically robbing the movement of a man with impressive leadership potential.
So what made Ashton stand out?
In a blog post on LinkedIn, former CEO of General Electric Jack Welch advised leaders to 'let their passion rip'. "You gain more than you lose," Welch wrote, "when you unleash your inner fire in front of an audience, and show them how much you believe and care about the topic at hand."
And it's passion that is Ashton's greatest quality. He lives and breathes it in everything he does.
Passion's a difficult thing to manufacture from scratch: you have to believe in something deeply. Ashton's passion stems from his fight for equality, and against injustice. He's completely unapologetic for who he is and what he believes in.
It's passion that allows him to persuade and cajole his fellow gay rights activists into supporting a cause as unlikely as the miners'. It's what allows him to ride rejection and criticism even from his own supporters. It's what allows him to carry on even when battling fears that he may be HIV positive.
Ashton is a visionary. His magnetism and passion rallies supporters, and overcomes objections. He's always pushing himself and his followers to greater heights. You can see this drive in the scene below, where Ashton apologises to the assembled miners for not doing enough to help them.
But it's clear too, that detailed planning is not his strong point. He needs someone to fill this equally important role. In Pride, this is Mike Jackson (Joseph Gilgun), Ashton's long-suffering friend and fellow activist. Jackson is the planner and organiser, the behind-the-scenes driving force who marshals resources and turns Ashton's passion and vision into action.
Read more about the real life Mark Ashton and about the real-life stories behind the film.