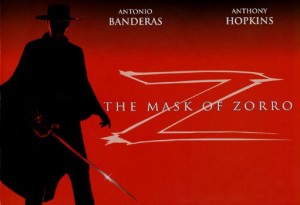 Do you ever feel overwhelmed by the sheer volume of 'stuff' you have to deal with? That you never seem to make the progress you want? 
Many of us do, and that's why we fail to achieve what we want to, whether at work or in our personal lives.
But help is at hand.
In his thought-provoking book The Happiness Advantage, Shawn Achor draws  inspiration from The Mask of Zorro to illustrate a brilliant technique we can use to regain control: the Zorro Circle.
In the film, veteran swordsmaster Don Diego (Anthony Hopkins) instructs his talented but volatile protege Alejandro (Antonio Banderas) using a training circle marked on the ground. 'This circle will be your world' he tells him. 'Your whole life. Until I say otherwise, there is nothing outside of it.'
Day after day, Alejandro seeks to master his skills within the circle. Only when mastery comes and his self control improves does Diego allow him to expand his world, by taking on missions outside of the training arena.
It's a fascinating metaphor not only for the pursuit of mastery, but also for helping us take control of areas of our own lives that are overwhelming us.
'Feeling that we are in control', says Achor, 'that we are masters of our own fate at work and at home, is one of the strongest drivers of both well-being and performance.'
He backs up this observation with extensive evidence. One study Achor quotes discovered employees who feel they have little control over deadlines have a 50% higher chance of a heart attack. Another showed that giving elderly people even a tiny amount of control over their lives – the responsibility of tending a house plant – extended their lives.
The Zorro Circle also aligns with how psychologists recommend that you set goals. For example, if you're trying to run a marathon, your first goal may be to run non-stop for just half an hour. Once you've managed that, your next goal might be to run for an hour.
So how can the Zorro circle help you as a leader?
Use it to help focus either yourself or your team on what's most important on a lengthy 'to do' list. Identify one small goal that can be achieved relatively easily, then move onto a slightly bigger goal once it's complete.
Break down larger projects or tasks which may appear too cumbersome to tackle, and are therefore ripe for procrastination. By identifying and completing the first step on your journey – then moving onto the next, gradually widening the circle – you can make progress more quickly.
Use it to help focus a new employee. For example, new managers can be overwhelmed by the multiple demands an organisation makes of them – communication, relationship building, influencing, performance management, selling new services – the list is endless. The Zorro circle can help. Use it to help them identify one aspect of their role to focus on and master, before moving onto another aspect of their role. Over time, their skill and competence will build significantly.
As John Williams writes in Screw Work Let's Play, we tend to overestimate the amount we can achieve in a week, but underestimate the amount we can achieve in a year. The Zorro Circle can help us make small, incremental improvements which not only improve our sense of wellbeing, but help us achieve more than we ever thought was possible.