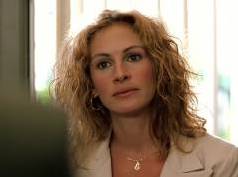 Last time we looked at three great female leaders from movies – Rita O'Grady from Made in Dagenham, Dottie Hinson from A League of Their Own, and Elizabeth I from Elizabeth. Here are three more, again with contrasting leadership strengths.
Erin Brockovich
Legal assistant Erin Brockovich shows that anyone can be a leader if they take the initiative.
Ploughing through a heap of neglected paperwork, Erin's undercover work exposes an environmental tragedy. She then uses her sense of justice to pursue the case, taking on the worst of corporate America with dogged determination and winning her clients millions of dollars in compensation. Once she suspects injustice, she won't back down until justice has been done. 
Erin's strengths as a leader lie in her tenacity. She's confident in her own ability – even when no one else is – and refuses to be intimidated by others, whether it's more experienced lawyers or the corporate bullies sent in by the Pacific Gas and Electric Company.
She also has a leader's ability to connect. She builds the strength of her case largely by encouraging victims to open up and talk to her. She shows she genuinely cares about them, and that builds trust and rapport.
Key strength: tenacity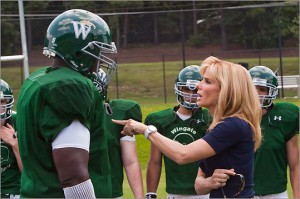 Leigh Anne Tuohy – The Blind Side
In The Blind Side, Memphis mother Leigh Anne Tuohy takes in homeless student and gentle giant Michael Oher, giving him both a home and an environment in which to develop his football talent.
Leigh Anne's a great example of a leader who can spot and nurture talent. She also has the compassion and selflessness to take action when she sees potential.
Leigh Anne has that rare ability to spot what makes someone tick, and use it to help them develop. Michael's giant size and strength marks him out as a natural for American football, but his placid nature on the field exasperates his coach. Leigh Anne is able to spot that Michael's strength is his 'protective instinct'. As a result, she changes his mindset on the field from destroying the opposition to protecting his teammates, and the impact on his game is dramatic.
Key strength: nurturing talent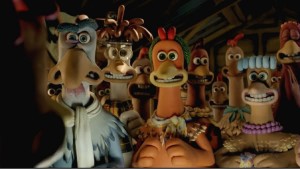 Ginger – Chicken Run
Ok, I'm cheating slightly. Ginger's a hen. But she's an impressive leadership role model nonetheless.
The future for Ginger and her fellow 'inmates' at Tweedy's Chicken Farm looks bleak. If they're lucky, it's a life of egg-producing captivity. If they're not, a one-way trip out as part of a chicken pie.
But Ginger is a leader who inspires her compatriots to dream of a better life. She paints them an attractive vision of what could be possible as a 'free range' chicken, and marshals their energies into pursuing multiple escape attempts.
This is one resourceful hen. She uses every weapon at the chickens' disposal, allocates roles according to individual strengths, and never gives up.
Crucially, she also proves adept at forming alliances, rallying others to her cause – like the self-centered rooster Rocky, pompous cockerel Fowler, and hedonistic rats Nick and Fetcher.
Key strength: vision 
What about you? What other great female leaders have you seen in movies? Leave a comment or tweet me @dave_wraith