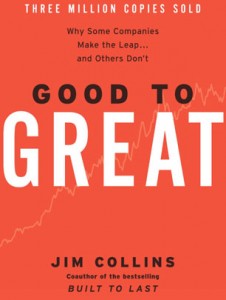 There are many 'good' companies, but few that are 'great'. In leadership terms, what makes the difference?
Jim Collins' business bestseller Good to Great outlines two key characteristics of what he calls 'level five leaders': those with the capacity to lead not just good companies, but great ones.
Collins and his team spent five years researching 11 companies that had vastly outperformed their competitors over a significant period, and identifying common factors to their approach. One of those factors was that the successful companies were invariably led by leaders with two common characteristics, who drove their companies to unprecedented levels of achievement.
So what were those characteristics?

Humility: Collins identifies level five leaders as rarely putting themselves in the limelight or taking credit. When things are going well, they tend to 'look out of the window' and credit outside factors for the success rather than their own influence. But when things are going less well, they 'look in the mirror' and take personal responsibility. Less successful leaders often do the opposite.
Drive: While they display high levels of humility, there's no mistaking the unwavering resolve of level five leaders to make their companies great. Their ambition and drive is for their company, not for themselves. This is no vanity quest: they want to build something that endures beyond them.
So where can we see these traits in movies?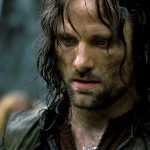 Aragorn, The Lord of the Rings
One of movies' most humble leaders is Aragorn from The Lord of the Rings (thanks to my former colleague Crishni Waring for this suggestion). Despite his abundant qualities, Aragorn is plagued with doubts over whether he's worthy of becoming King. Yet his commitment to victory is absolute, and he inspires those around him with his ferocious determination and positivity, even in the face of overwhelming odds.
When he finally does become King, his humility shines through as he ensures both he and his people give full credit to his hobbit friends for their part in the victory over Sauron.
Lincoln
Collins found that level five leaders have the humility to 'grasp that they don't yet understand enough to have the answers and then to ask the questions that will lead to the best possible insights.'
One leader who did this in abundance is Abraham Lincoln, who famously recruited a 'team of rivals' who were unafraid to challenge him and assert their opposition. In common with the Good to Great companies identified by Collins, vociferous debates were a hallmark of Lincoln's reign, as he had the humility to recognise that he didn't always have the answers.
There's also no doubting Lincoln's resolve, particularly in his pursuit of pushing through the 13th amendment against slavery where he has to prolong the bloody Civil War to do so.
Gandhi
Think of an iconic leader with humility and it's a fair bet that Mohandas K Gandhi will be near the top of your list.
Gandhi eschews all the trappings of wealth and power to live the simple life of his followers, even spinning his own cloth. Wealthy or poor, Muslim or Hindu, Gandhi treats everyone the same.
Like other level five leaders, there's no mistaking his drive towards freeing India from British rule. But equally important is his commitment to non-co-operation and non-violent resistance. Gandhi's commitment to the means is just as resolute as his commitment to the goal, and he's prepared to wait longer to achieve that goal to stay true to his principles.