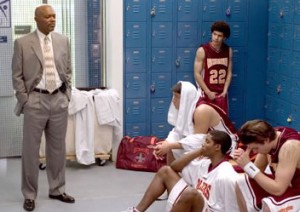 Since movieleadership.com launched in late 2011, the search term that brings more people here than any other is 'leadership lessons from Coach Carter'. And no wonder: it's not only a highly entertaining movie, but packed full of great leadership behaviour too.
Take its climactic scene (spoiler alert!) where Carter, having guided his players against all odds to reach the final of the state basketball championship, sees them defeated in the last second of the game despite making a heroic comeback. In the dressing room after the game he attempts to lift their spirits. 
Encouraging the heart
It's a classic example of Kouzes and Posner's leadership practice encourage the heart. Carter's had a tough relationship with his team, but here he gives them the credit he feels they deserve, with recognition that is:
timely (straight after their last game)
specific (Carter tells them exactly why he is proud of them – for the way they played, despite their final defeat, and for how they've matured as a team)
genuine (he reflects on the last four months and how they've exceeded his expectations)
He also reframes what his players see as a defeat on the basketball court into a more powerful victory that they hadn't considered: their personal triumphs both as students and as individuals.
The power of language
The magic of Carter's speech, however, lies in its powerful use of rhetorical devices. As we've seen before in Braveheart, The Lord of the Rings and An Inconvenient Truth, rhetorical devices are often the pixie dust that give speeches their magic. And if we decode the language that makes them powerful, it becomes easier to create the same magic in our own speeches and presentations.
In Lend Me Your Ears, Max Atkinson identifies a range of techniques that make a speech come alive. Let's see how just three of these are used to great effect in Ken Carter's short but emotionally powerful words. You can see the annotated speech and movie clip at the bottom of the page.
1. Contrasts
As we saw in An Inconvenient Truth, contrasts form the backbone of many powerful presentations and speeches. They're simple to use, too: just position two contrasting pieces of information next to each other, and let the audience draw their own conclusions. Carter uses opposites to describe how his team have gone from basketball players to students, and boys to men.
2. Puzzles and solutions
One of the easiest techniques to master is to simply pose a rhetorical question, and then answer it. It helps to keep your audience interested, and is commonly used to transition between different parts of a speech or presentation. A more advanced technique, used here, is to say something intriguing and then explain it. Despite their loss on the court, Carter twice refers to what his players have achieved without telling them what that achievement was. He eventually solves the riddle: their achievement was 'that ever elusive victory within'.
3. The power of three
Using lists of three is another simple but highly effective rhetorical device. In fact, Atkinson highlights a wealth of research which shows that people automatically tune in to lists of three, but lose attention or struggle to remember if a list goes beyond that number.
Carter uses the power of three in sentence form: three consecutive sentences all linked by the word 'achieved'. And he increases it by using it with another powerful rhetorical advice: repetition.
It's a short speech of less than a minute, but loading it with rhetorical devices ensures it packs an emotional punch.
Annotated transcript
'You men played like champions, you never gave up. And champions hold their heads high. What you achieved goes way beyond the win/loss column or what's going to be written on the front page of the sports section tomorrow. You've achieved something that some people spend their whole lives trying to find (Puzzle/solution). What you achieved (three repetitions of 'achieved') is that ever elusive victory within. And gentlemen I am so proud of you.
Four months ago when I took the job at Richmond High I had a plan. That plan failed (Puzzle/solution). I came to coach basketball players, and you became students. I came (repetition) to teach boys, and you became men (contrast). For that, I thank you.'
You can watch the speech below.