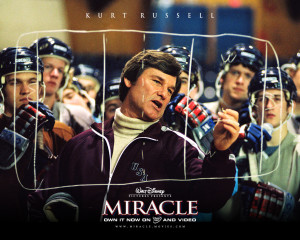 With Olympic fever gripping the UK, it seems a good time to revisit Miracle, the 2004 film that depicts one of the great Olympic underdog stories.
I was only 11 during the 1980 Winter Olympics, but can still clearly recall the elation of the US ice hockey team following their stunning gold medal. Strung together mainly from university players just a few months before the tournament, the team achieved an almost unthinkable victory over the Soviet Union, gold medal winners at the previous four Olympics.
In professional sport, such turnarounds are rare. Just a week before the tournament, the formidable Russians trounce the USA team in a warm-up match, having already dispatched the National Hockey League professional all-stars in the same way. But somehow, the USA are able to turn around their game when it matters. 
Kurt Russell plays Herb Brooks, the US team coach whose uncompromising approach turns a group of undisciplined amateurs into a slick, world-beating hockey team. And there are plenty of leadership lessons along the way…
1. Aim high
When Brooks is recruited, the US Ice Hockey committee members are most interested in 'not embarrassing themselves' at the forthcoming Games. But Brooks sets out his goals clearly: he wants to beat Russia and take the gold medal.
'That's a pretty lofty goal Herb,' a committee member tells him. 'Well that's why I want to pursue it' Herb responds.
2. Challenge the process
Like most top coaches, Herb insists on making all the key decisions. In those days, it was common in many sports for committees and not coaches to select national teams. Herb puts noses out of joint by selecting the squad himself without even consulting the committee.
3. Use individual strengths to create a stronger team
Herb raises eyebrows early by selecting his squad based on their ability to play in a team system, rather than simply selecting the best individual players. It's a great example of using different strengths to make a stronger, more cohesive team.
'I'm not looking for the best players' he tells Craig Patrick, his assistant coach. 'I'm looking for the right ones'.
4. Keep your distance
Knowing he needs to push his team to the limits of their endurance, Herb deliberately keeps his distance from the team – and makes that clear at the outset. 'I'll be your coach,' he tells his players. 'I won't be your friend.'
To compensate for that distance, he brings in ex-player Patrick as assistant coach to mentor the players and sort out any problems.
5. Create an identity
At the outset, Herb's squad is riddled with conflict and old rivalries. But he knows his players must really come together as a group if they're to be successful.
He starts that process by asking players at training sessions to call out their names, where they're from, and who they play for. For weeks, the players give their club or university name when asked. But eventually, after a brutal fitness session following a lazy match performance, the penny finally drops: 'I play for the United States of America'.
6. Know your team
Sometimes people need a comforting arm around the shoulder to help them deliver their best. And sometimes they need a big kick. Herb does both, and on one occasion almost starts a fight in the half-time changing room to get his team fired up. It works.
7. Inspire confidence
The Russians' formidable ability and playing record would be enough to intimidate any team, let alone an inexperienced group of youngsters. Herb admits the Russians are a better team. But he inspires confidence by presenting a credible game plan for beating them and showing 100% faith that they can win.
'If we play them ten times they might win nine,' he tells them before the big game. 'But not this game. Not tonight…. Tonight, we are the greatest hockey team in the world.'