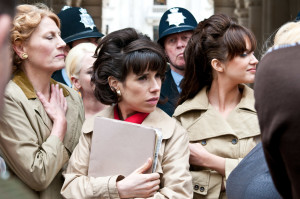 It seems strange, to me at least, that women could ever legitimately be paid less than men for doing the same job. But equal pay legislation is just 40 years old, and Made in Dagenham tells the inspiring story of the female workers at Ford's UK Dagenham plant and their successful struggle to make equal pay a reality.
Female leadership role models are rare in movies, which is what makes Made in Dagenham such a gem.
If you need to lead change effectively, the passionate equal pay activist Rita O'Grady (Sally Hawkins) serves up plenty of food for thought. 
1. Courage to speak out
Any worthwhile change needs someone with the courage to challenge the status quo. Putting yourself 'out there' and open to potential ridicule is not easy. It takes guts and resilience.
Early in the movie Rita's protests are easily rebuffed by her son's bullying schoolteacher, but she doesn't let that negative experience get her down. She's soon back to challenge her employer on her colleagues' job grading, refusing to stay silent despite the instructions of her ineffective union boss.
Fuelled by a sense of injustice, she's willing to take on her own union, her heavyweight employer, the government, her husband and an even bigger obstacle – the prevailing sexism of her time. That takes serious courage.
2. Make your case for change come alive
As Kotter points out, making your case for change memorable and visual helps people to grasp its significance. In her first union meeting with her Ford bosses (see clip below), Rita produces the material samples that she and her colleagues stitch into car seat upholstery – effectively challenging its classification as 'unskilled' work.
Later, Rita opens her address to her union's conference with a heartfelt, personal story highlighting the death of her best friend Connie's husband, and showing the similarities between his struggles in the war and their own battle for equal rights. It's an effective story, packing emotional punch and helping her audience draw their own conclusions on her argument's validity.
3. Create a simple, powerful vision for change
Although the Ford women initially strike over their categorisation as 'unskilled workers', Rita soon has them uniting under a more powerful cause: equal pay for equal work. It's hard to question its logic, and its simplicity and moral strength cuts a big hole in any competing argument.
Rita constantly demonstrates her skill as a communicator, keeping her message simple and lacing her language with memorable soundbites. 'Rights, not privileges', she tells her husband Eddie. 'It's that easy.'
4. Overcome resistance
Even major change can seem easy at first, but momentum can quickly hit the rocks once the inevitable obstacles emerge. How movements deal with those obstacles often spells the difference between success and failure.
Sometimes the resistance is external. Rita's own union, alarmed the women will gain concessions at the expense of the men, attempt to scupper their protest. And the stakes rise when their strike forces the closure of the whole plant, putting thousands of their husbands and male colleagues out of work too.
Sometimes the resistance is internal. Sandra, one of the Rita's key colleagues, is almost lured back to work with the promise of a modelling job, while the suicide of Connie's husband tests the tightness of the group.
And while Rita keeps her steely focus on overcoming those obstacles, even the toughest leaders need support and encouragement along the way to help stay the course. Rita gets hers from supportive union rep Albert, her husband Eddie, from Government minister Barbara Castle and from the disaffected wife of the plant manager.
'Never doubt that a small group of thoughtful, committed citizens can change the world. Indeed, it is the only thing that ever has.' Margaret Mead