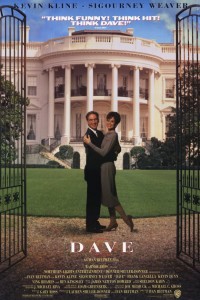 Ivan Reitman's 1993 comedy Dave may not be most people's first choice of a great leadership movie. But for me it demonstrates perfectly a key facet of leadership: that it is a choice rather than a position.
In the movie, the White House recruits uncanny presidential lookalike Dave Kovic (Kevin Kline) as a one night stand-in for the unlikable President Mitchell. But when the President is incapacitated by a severe stroke, Chief of Staff Bob Alexander and Communications Director Alan Reed persuade Dave to continue the role while they plot to make Alexander the new President.
The plan goes awry when Dave decides to use his new role to make a real difference – winning over not only his colleagues but the country. So what can we learn from Dave's approach?
1. Have courage
There's no escaping it: sometimes leaders need to have courage and make a stand.
Dave's a happy-go-lucky, easy-going guy for whom it would be far easier to play along then go home with a goody bag stuffed with White House memorabilia. Instead, he chooses to lead by standing up to the domineering Alexander.
In one pivotal scene, Dave changes the agenda of a televised cabinet meeting so he can review the budget and save a homeless programme. Twice he resists pressure from Alexander to stick to the schedule, and his courage and integrity is rewarded by an enthusiastic reception from his fellow cabinet members.
2. Be yourself – and be friendly
Some leaders put on a mask to disguise their true self, feeling that a leadership role requires them to act in a certain way. But they fail to be authentic.
Dave, however, is true to his affable and slightly off the wall self. He gives genuine praise to Alan on his speech writing, makes sandwiches for his bodyguard Duane and advises him on his wardrobe, and smiles and chats to everyone he sees. As a result, people warm to him – staff and public alike.
The contrast between Dave and the real President Mitchell is stark. Mitchell is rude, dismissive, walks out of meetings mid-sentence, kills off charitable programmes while making sure other people take the blame, and generally acts like the power of office has gone to his head.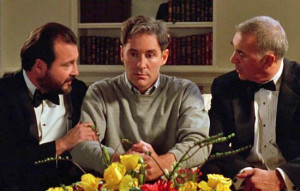 3. Build a trusted team
Building a trusted team is key for any leader, and Dave quickly builds a small group of people who will support him.
His warmth and integrity wins over Alan, he gets Duane on his side, and forms a crucial alliance with Mitchell's estranged wife Ellen.
At the same time, he disposes of those who don't share his values, notably by sacking Alexander as his Chief of Staff.
4. Create a simple vision – and make it come alive
It's hard to underestimate the power of a clear, simple vision worth striving for. So many powerful leadership movies have a powerful vision at their core. Dave quickly sets out his own clear, unifying vision for his administration – to find a job for every American who wants one.
He also makes his vision come alive, illustrating it with a personal story of how someone feels when they get a job. It's a simple, powerful vision – and one definitely worth striving for.
5. Encourage the heart
Dave's affable personality encourages the heart of everyone he meets – from the First Lady to the lonely child at the homeless shelter. He takes an interest in people, and gives praise and encouragement liberally.
But my favourite example of this key leadership practice comes not from Dave but from his bodyguard, Duane. Early in the movie, Dave asks Duane whether he'd take a bullet for him, as acting president. Duane stays silent. But at the end, Duane's last words are: 'Dave. I would have taken a bullet for you.'
It's an eloquent and powerful tribute to Dave's impact in his short stay at the White House.