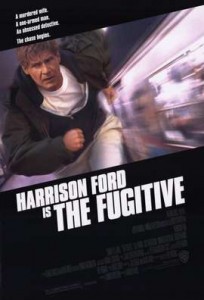 Harrison Ford may have headlined 1993's Oscar-nominated thriller The Fugitive, but it was Tommy Lee Jones who stole the show with his portrayal of grizzled US Marshal Samuel Gerard. Such was his impact that Jones got his own spin-off five years later in US Marshals.
Gerard exhibits many impressive leadership qualities, and is a great role model for the Kouzes and Posner leadership practice of enable others to act. With Gerard, there's never any doubt who's in charge: he sets a clear, unmistakable goal for everyone working for him. His expectations are crystal clear – in this case, the immediate apprehension of his target, the escaped convict Dr Richard Kimble.
This quality is perfectly encapsulated by Gerard's most famous speech – used extensively in the movie trailer below – where he addresses the combined law enforcement ranks around him: 'What I want from each and every one of you is a hard target search of every gas station, residence, warehouse, farmhouse, henhouse, outhouse or doghouse in that area!' The colour of his language makes it clear he wants no stone unturned in the search, and every means necessary to be deployed.
Having set a clear direction, Gerard then lets his highly skilled team get on with making it happen. No one is waiting around for detailed instructions – they all know their roles and carry out their investigations with quiet efficiency.
Gerard's leadership is also characterised by a dogged tenacity and thoroughness which makes him pursue his quarry with steely determination. When most of his colleagues believe Kimble's suicidal dam leap makes his death a formality, Gerard refuses to abandon the search without physical proof.
He also knows exactly what he stands for, and ensures his actions reflect those beliefs. 'I don't negotiate' he whispers after shooting his colleague's captor at point-blank range -an extreme illustration of upholding personal or organisational values!
But despite his dogged and uncompromising outlook, Gerard also shows the quality of all great leaders – an ability to change and adapt. Having announced to Kimble at their first meeting that he 'doesn't care' whether Kimble is innocent or guilty, he gradually opens his mind as the weight of evidence begins to unfold.
By the end, Gerard does care – about Kimble's safety and in seeing justice done – and in typical fashion he pursues those new goals with the same ruthless efficiency as before.