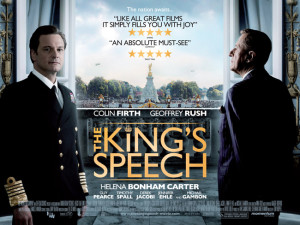 For many people promoted into management roles, one of the toughest challenges is to build confidence and capability in public speaking: in business, often represented by the dreaded presentation.
It's a situation explored at length in The King's Speech, the unlikely but fascinating tale of how King George VI – 'Bertie' (played by Colin Firth) – overcomes his demons with the help of an unqualified Australian speech therapist, Lionel Logue (Geoffrey Rush).
While we may not be handicapped with a speech impediment like Bertie, many of us are familiar with that toe-curdling feeling of making a speech or presentation, and finding the words dry up. In that first speech at the Empire Exhibition, who can't feel for the future King as he fails to deliver before an expectant audience?
Presentations are often particularly feared – and avoided – by introverts like Bertie. In The Introvert Advantage, Marti Olsen Laney shows there's a physiological reason for this too. Introverts' longer brain pathways make it harder for them to access the information they need quickly – a definite disadvantage when talking to a group. It's the reason why introverts often prefer to reflect before they speak, unlike extroverts who tend to vocalise their thinking as they go along.*
But anyone can become an engaging presenter, whether introvert or extrovert. Follow Logue's guidance to overcome your public speaking demons and become a presentation powerhouse!
Practise, practise, practise!
The best presenters look great because they put the time in beforehand. Logue marks each speech with pauses and ensures Bertie practises diligently, helping him get over every difficult passage or word. Even Winston Churchill, famous for many of the 20th century's most legendary speeches, reputedly practised for hours in the bath beforehand.
Rehearse in the same setting
Before the King's coronation, Logue and Bertie take over Westminster Abbey to practise at length. Becoming familiar with the feel of the venue beforehand helps build confidence.
Sing your lines
For anyone who feels their delivery is a little staccato or monotone, try another Logue tactic: sing your lines! Bertie's tunes of choice are waltzes and 'The Blaydon Races'. Speech therapist Roger Love recommends practising reading to the tune of 'Happy Birthday', helping you to inject some much-needed inflection and character.
Warm up
Start well and your confidence will grow rapidly, which is why many presentation coaches recommend you memorise your opening. It also pays to do some vocal warm-ups beforehand. Try Logue's favourite tongue twister, which Bertie uses before his keynote speech on the outbreak of war: 'I'm a thistle sifter. I have a sieve of sifted thistles and a sieve of unsifted thistles, because I'm a thistle sifter'.
Personalise your audience
Speaking to large groups you don't know is naturally unnerving. You could try the old adage of visualising them naked to settle your nerves. But it's often better if you can visualise yourself addressing just one person you know and like. 'Forget everything else', says Logue, 'and say it to me. Say it to me, as a friend.'
* Watch Susan Cain's engaging TED talk 'The Power of Introverts' below for more on the difference between introverts and extroverts.