Lessons from Moneyball and Up in the Air
When I organised management training, one of the key challenges identified by delegates was how to handle difficult conversations. And no wonder. Communicating bad news or addressing difficult issues is one of the toughest parts of leadership. Many leaders feel ill-equipped to deal with the powerful emotions that are inevitably unleashed.
Two outstanding recent movies deal with this issue. Both Up in the Air and Moneyball look at one of the toughest conversations of all: cutting someone's job. And there are lessons to be learned by any leader faced with the tough job of communicating bad news. 
1. Get to the point quickly
There's little advantage in beating round the bush: you need to get to the point quickly. Don't let the recipients writhe in agony while you prepare the ground.
Moneyball's Billy Beane (Brad Pitt) takes this to extremes, starting and ending one conversation with a curt: 'You've been traded to the Tigers'. But as he tells his sidekick Peter Brand: 'Do you want a bullet in the head, or do you want to be shot five times and bleed to death?'
2.  Prepare for the emotion and accept it
Make no mistake: you may unleash a tidal wave of powerful, usually negative, emotions. It's best to let people vent, listen and show empathy. In Up in the Air, Natalie Keener's first attempt at giving someone their notice fails in that respect. Keen to wind up the conversation, she tries to block the negative emotions by immediately emphasising the 'positives' of the situation – even while the unfortunate employee dissolves in tears.
3. Show courage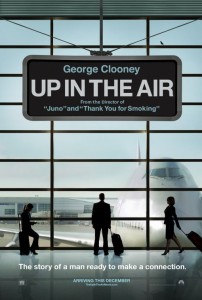 If it's a tough message, the least one can expect is that it's delivered with courage, face to face. Difficult conversations are not best delivered by phone, text, email or video.
Experienced executive Ryan Bingham (George Clooney) is appalled by Natalie's 'employee termination workflows' and cost cutting 'termination by video conference'. It may look good to the company's profits, but it makes the bitter pill even harder to swallow for those affected.
4. Shine a light
'When one door closes, another opens', the saying goes. It's something that Ryan certainly tries hard to impress on the employees he has to let go. He sees his role as 'making limbo tolerable: ferrying wounded souls across the river of dread to the point that hope is dimly visible.'
To that end, he closes many of his conversations with this: 'Anyone who ever built an empire or changed the world sat where you are now. And it was because they sat there that they were able to do it.'
Have you seen other movies that cover handling difficult conversations? Or tips of your own that you've used with good effect?