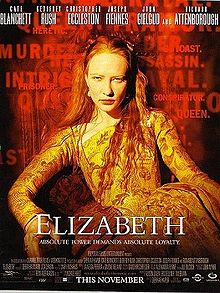 Advisers who can't be trusted. Threats from more powerful competitors. A divided organisation who have no faith in your ability to lead, and are deeply suspicious of your motives
Oh, and potential assassins at every turn. 
That's the scenario confronting the new monarch in Elizabeth, Shekhar Kapur's fascinating film on the early reign of Queen Elizabeth I, played by Cate Blanchett.
History books, of course, acknowledge Elizabeth I as one of England's most celebrated queens. So how does she turn around this unpromising scenario, stabilise her nation, and build a lasting legacy? What can we learn from her leadership? 
1. Show integrity
Great leaders show integrity even when the stakes are high. When her life is at risk while still a princess, the young Elizabeth refuses to lie for self-interest. Challenged by her dying sister, the reigning Queen, on her plans for the Catholic faith, she promises only to 'act as her conscience dictates'.
2. Learn from your mistakes
Poor counsel from her closest advisers leads Elizabeth to send an army into battle in Scotland, even though her intuition warns her against it.
When the army is heavily defeated, she uses this bitter experience to become more guarded on whose advice she trusts, and to become more confident of her own judgement.
3. Drive through change
Elizabeth is determined to tackle the religious divide by taking early action to establish a single Church of England. Facing a hostile audience of bishops who fear their religion is under attack, Elizabeth uses humour to defuse much of their anger and get the audience on her side.
She influences not by coercing but by presenting a clear and attractive vision of the future  – the peace and happiness of her people.
Of course, as Kotter points out, a key part of successful change is to sideline the naysayers. In this, Elizabeth has a useful ally in her personal protector, Sir Francis Walsingham (Geoffrey Rush), who imprisons the five most rebellious bishops during the debate and vote.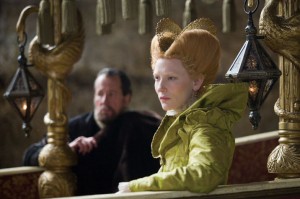 4. Get the right team around you
Elizabeth comes to recognise that while her closest adviser, Sir William Cecil (Richard Attenborough) is loyal and trustworthy, their views are becoming increasingly divergent. She takes immediate action to retire him to a peerage, and instead turns to Walsingham for advice on how to tackle her immediate issues.
5. Make tough decisions
In most organisations, taking tough decisions might be making people redundant or sacking them for poor performance. For Elizabeth, the stakes are higher. Having dispensed with Sir William as her adviser, she accepts Walsingham's advice and agrees to hunt down and execute those who are conspiring against her.
6. Follow your instincts
Great leaders listen to advice but are not afraid to think outside the box and follow a different path.
From the beginning of her reign, Sir William pressures Elizabeth to marry quickly and produce an heir to make her reign more secure.
But Elizabeth eventually challenges that accepted view. Refusing to marry purely to form a political alliance with Spain or France, she pursues a different course as the 'Virgin Queen', declaring instead that she is 'married to England'.
It is this personal sacrifice and refusal to bow to convention that ultimately marks Elizabeth as an extraordinary Queen – and leader.