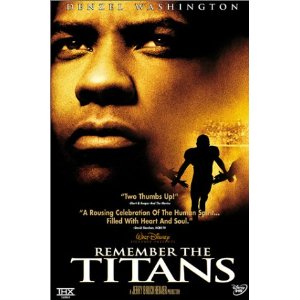 Watching Remember the Titans recently, I was struck by how often Kotter's 8 steps for managing change appeared.
Set in Virginia in 1971, the film tells the true story of the newly integrated TC Williams High School football team. In a town awash with anger and prejudice, new coach Herman Boone is given the task of forming a winning team from two disparate groups.
Here's how Kotter's 8 steps help turn around not just the team, but the whole community. 
1. Create a sense of urgency
Most of the team's players don't recognise the need for change, despite the impending start to the season. Boone makes the message visual and memorable with an early morning run to the Gettysburg Memorial. 'If we don't come together on this hallowed ground right now', he declares, 'we too will be destroyed'. Surveying the graves of 50,000 men killed in the same battle for racial equality, the penny starts to drop.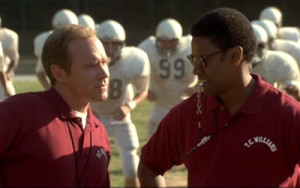 2. Pull together the guiding team
Boone's initial guiding team is flawed. It includes a snubbed assistant, Coach Yoast, who stays only to avert a player boycott, and brings his bigoted colleague with him.
But Boone builds on positive support where he can, shining a light on the unprejudiced Louie Lastik to show the culture he wants. As he gets his message across, he builds a stronger team in Yoast and the natural leaders of the white and black players, Gary and Julius.
3. Develop the change vision and strategy
At training camp, Boone outlines his vision for the team: they will be perfect in everything that they do. His strategy to get there? A racially integrated team, selected only on merit, and honed by hard work on the training field.
Julius reiterates the vision once again during the final game, helping the team to push on to an unlikely victory.
4. Communicate for understanding and buy-in
Boone backs up his vision of a racially harmonious team with a number of actions. He ensures players sit on the bus and room with team mates of a different colour. When his players still don't mix, he introduces three training sessions a day until they do.

5. Empower others to act
When Gary singles out his best friend Ray on the training field for not doing his job, the coaches don't intervene. Gary's example inspires Julius to raise his own game and take personal responsibility.
As Boone's methods begin to work, his guiding team contribute by removing obstacles to change, even at personal cost. Coach Yoast ditches his loyal but prejudiced assistant, while Gary cuts Ray from the team.
6. Produce short-term wins
With their town still full of racial unrest, early victories help build momentum.
Those who play their part are also recognised. Forced to replace the quarterback early in their third game, Boone turns to the talented but uncertain Ronnie Bass. He tells him a brief story about how he lost his mother and father when he was 15, and how he needed to step up because his brothers and sisters needed him. It was Ronnie's time to step up now.
The story gives Ronnie the strength he needs to help win the game, and Boone publicly congratulates him at the end.
7. Don't let up
On their return from camp, the team find their new bonds stretched to breaking point by continued prejudice from friends and family. But they keep up the momentum.
Boone continues to build his relationship with Yoast, cementing his assistant's loyalty when he is tempted to jump ship for personal gain.
And team members themselves call a meeting to revitalise their flagging momentum. From it comes a unique new warm-up ritual, and a renewed sense of solidarity to further bond the team.
8. Create a new culture
The success of the Titans models the way in showing how racial integration can work. Those resistant to change – notably Gary's mother and girlfriend – are eventually won over.
When the team return victorious from the regional championships, the whole town turns  out to congratulate them – even Boone's white neighbours.