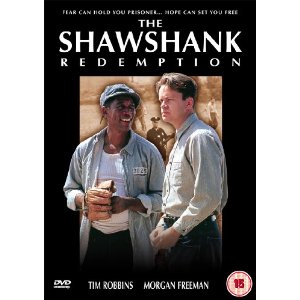 Whenever I tell people that The Shawshank Redemption is one of my top leadership movies, I often receive blank looks. Where's the recognised leader, the rousing speeches to followers?
But for me, it's the perfect demonstration of a different kind of leadership: a demonstration that leadership is a state of mind, rather than a position. It's also a classic film for demonstrating the power of encouraging the heart.
The Shawshank Redemption was ignored by many on its release, but its popularity grew steadily, largely through word of mouth. It is now ranked number one on the Internet Movie Database's Top 250 Movie List, as voted by users. 
Clearly, the story of Andy Dufresne, the banker wrongly imprisoned for his wife's murder, and his friendship with the charismatic Ellis 'Red' Reddings, has captured the heart of many. Perhaps the secret is the simple premise at its heart: no matter what the odds, you can overcome them if you never give up hope.
Andy, of course, has no formal leadership role, but his belief in the power of hope drives him to carry out numerous unselfish acts of kindness to lift the mood of his fellow inmates.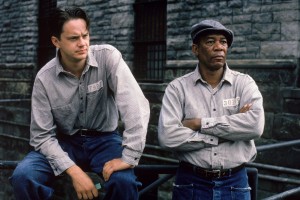 Early on, he risks retribution from the sadistic Captain Hadley in order to secure beers for his fellow workers on the factory roof they're resurfacing. He then works tirelessly to re-stock and renovate the prison library, and tutors a fellow inmate to help him get his high school diploma.
In one of the most famous scenes, Andy locks a guard in the lavatory in order to give his fellow inmates just a few minutes experiencing the uplifting power of opera over the prison tannoy. It's Andy's belief in the power of small acts to encourage hope which makes him a most unselfish leader – one who will put his own comfort at risk in order to inspire others, if only for a short time.
And on a personal level, Andy helps transform the life of his best friend. In his own words, Red is 'institutionalised': incapable, he thinks, of adapting to life outside the walls of the institution he has known for so long.
Andy shows his faith in Red and his need for his help on the outside. He also inspires a shared vision – of a peaceful life where they can both truly escape the bonds of the physical and mental prison that surround them. Through Andy's encouragement and belief, Red is ultimately able to make the final leap and break free to a new life, full of hope.