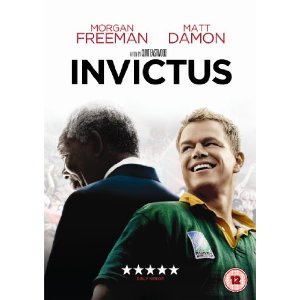 I remember the 1995 Rugby World Cup very clearly. It was at the height of my passion for the game, and the memory of New Zealand wing Jonah Lomu brushing white English shirts aside like rag dolls still burns brightly in my memory!
The tournament also produced one of rugby's most iconic images: South Africa President Nelson Mandela, clad in a green Springbok shirt and cap, presenting the trophy to his national captain Francois Pienaar. It truly felt the birth of the rainbow nation after so many years of trouble.
So it was only natural that I would look forward to the release of Clint Eastwood's 2009 film Invictus, which tells the story of how President Mandela used the tournament to help give his country a boost, and how Pienaar is inspired to even greater heights as a result. 
Mandela, of course, is probably the world's most iconic leader. I visited the scene of his incarceration, Robben Island, in 2003, and subsequently read his fascinating and surprisingly readable autobiography, Long Walk to Freedom. Ground-breaking politics and leadership combined with an iconic sporting tournament: surely a recipe for a stunning movie?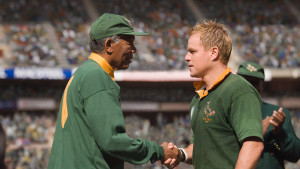 Invictus isn't perfect, but it excels as a study of leadership at different levels. Mandela himself is unfailing in his commitment to reconciliation as a way of uniting his vastly divided country, and knows that the standard he sets for his people is crucial. He's the perfect example of a leader 'walking the talk' – whether by changing the ethnic representation of his personal bodyguards, or by intervening to ensure that the white minority is not 'punished' for the past by changing the Springbok name and emblem.
Then there's Pienaar, captain of the underperforming Springboks, who buys into Mandela's vision but quickly realises leadership can be uncomfortable as he encounters opposition from his own team.
And finally there's Mandela's bodyguards, headed by Jason Tshabalala, who are forced to work with – and trust – the Special Branch operatives who guarded President de Klerk.
Led by Mandela's example, they all model the way – demonstrating the behaviours that will be critical to the rebuilding of their nation. Mandela himself, of course, also inspires a shared vision – most notably with Pienaar. The Springbok captain quickly becomes a faithful and loyal lieutenant not only in the business of winning the World Cup, but of changing attitudes.